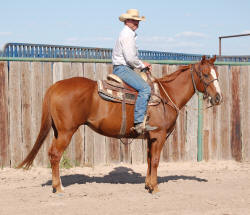 RANCH, HEAD, HEEL, TEAMPENNING
11 yr old 15H AQHA sorrel gelding
Heads, Heels, Teampens, Breakaway & Ranchwork
Very gentle, very broke
Youth suitable
---
GRULLA & GENTLE
2004 Grulla 15.1H grade gelding
Gentle
No hump or buck
Neck reins
Youth ridden
Ranch roped on slightly
---
TEAMPENNING PROSPECT
DOC O'LENA
SMART PEPPY DOC
SMART PEPPY
GOTTAHAVEAPEPPY DOC
DOC'S SUBSCRIPTION
SCRIPS IDA RED
FOURBLE'S IDA
GOTTA HAVE A STORM
2001 mare
ZAN PARR BAR
ZAN GOLD JACK
MISS GOLDIE JACK
ZANZA STORM
RED JOAK
MISS RED POLLEO
POLLY SOX

6 yr old, 14.1H mare
Ridden extensively in a feed lot,
Parades, trails, has an extreme amount of cow sense
Even pins her ears at cattle across the fence without a rider
Suitable for experienced rider only .
Located in Kansas
---

WORLD'S LARGEST RANCH HORSE
1720 lb as shown, 16.1H, 6 yr old, AQHA Grey Gelding
Rider shown is 6'4"
STRAIT SILVER & SMOOTH HERMAN bloodlines
No buck, used daily doctoring cattle, pasture roping
Ponies colts, Loads bulls
Big & Gentle
SOLD
---
WHEN YOU WANT TO WIN & HAVE A BROODMARE, TOO
| | |
| --- | --- |
| | SMART CHIC OLENA ( 2 Time WORLD CHAMPION) |
| 1994 bay mare | |
| | BUD BARS PAULA (grandaughter of SUGAR BARS) |
Big 15.1H, Athletic, Cowy and Gentle
Smart Chic Olena mares average cost is way above the price of this mare!
Ride and Breed her!
Finished in Cutting,
Ready for Reined Cowhorse and Teampenning Events
Temperment suitable for Novice Rider

SOLD
---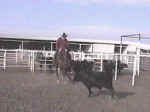 CUTTING or TEAMPENNING
Big 15.2H son of Chickanita Quixote
and a daughter of Doc's Budha.
Numerous Non Pro awards in cutting.
Has now been trained for Teampenning, too!
Very cowy and Big.
SOLD
---
PROVEN TEAMPENNER
CEE BARS SAM ( by GOOD BYE SAM)

CEE BARS BLUE
1993 Grulla gelding

MY FIRST CASH (by MR BLUE RAIDER)

SOLD SOLD SOLD!!
FLASH FLASH FLASH!!!
"Sam now has 2 AQHA Youth Teampenning points and is a money earner!!"
A goodlooking prospect who has a mind of gold and color of silver. He is well-started on cattle, he is used on the ranch, has a world of cow and ANYONE can ride him. He has the ability and mind to go to many areas, teampenning, barrels, western pleasure or teamroping. Gentle, quiet, sound and goodlooking coupled with that GRULLA color. He would be GREAT at the ABRA WORLD!
---

8 yr old APHA bay/white gelding
Used on a ranch, some teamroping
15.1, 1090 lbs
SOLD
Consignment horse: $ 5000
---
Shebac Skipper Lad (by Sturgeon's Zeb)
Wreckless Cowboy
1993 Bay Gelding
Wreckless Avenger (goes to Staunch Avenger TB)

SOLD
Cowboy is a great prospect for roping, teampenning or ranch horse. He is a good young gelding and started right. 15H and weighs 1050,well made. Bred to have some gas with an easy disposition. We are breakaway roping in the round pen, sorting and turnback on him. He is really coming along.
---

SOLD
FRED
4 yr. old grey gelding, 15H
Well started on cattle, being used on a ranch.
Consignment horse.
No buck, running walk

---
MISS N CASH (by DASH FOR CASH)

MUTUAL
1995 sorrel gelding

BELLE N JACK (by DOC'S JACK SPRAT)

*****SOLD*****

This is an athletic colt that really keeps his hind leg under him, good moving, quick horse. Has had 6 months professional cutting training by one of the top trainers in the industry. He is really versatile and ready to go to work.
SOLD
---
AQHA
CHRISTY
1992 Sorrel Unreg Mare
APHA
This 14.3H sorrel, blaze faced, stocking legged mare voted Best Horse in a Texas Ranch Rodeo. She is gentle and quiet. Infoal.
Price: $2,000
---
Gallant Gem (by Gallant Ghost)
Texas
1991 Blk/Tob. Gelding
Queens Tater (by Go Tater by Three Bar Tater)
***SOLD***

Tator is the quiet and gentle, well-started on cattle for turnback, teampenning and heeling. He will really watch a cow. Trained and ridden by a 65 yr old. Ready to be finished. 14.2H, 1050 lb.