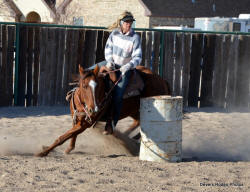 BARRELS POLES GOATS
15 yr old, 15.1h sorrel grade mare
Gentle & SMOOTH
Sugar Bars bred but papers lost
Very turney but not a barrel hitter
Novice & youth suitable, step up level
No spook
Sound
Pretty

SOLD
---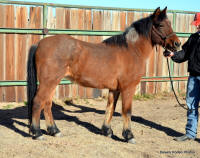 BARRELS & POLES PONY
17-18 yr old 13.3h red roan pony mare
Barrels Poles Goats Roping
Step up level to advanced
Competed on in the NWOJR

SOLD
---
************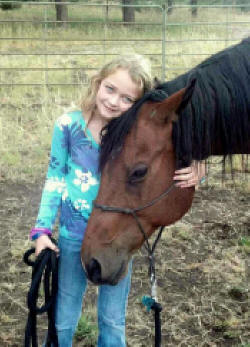 Thanks Marty and Sabrina for finding us the perfect match for Kylie!
We all love Doc and look forward to alot of good times with him.
It's really great to be able to trust someone when you're looking for that ideal horse,
a horse that Kylie can enjoy and improve on!!! Thanks again for making her one happy little girl!
Karen Dillon
---

GENTLE PONY FOR 3-6 YR OLDS
10 yr old paint shetland pony mare
Gentle & sweet
Just a rider, not a barrel pony
Sound
Located in Ft Worth area
SOLD
---
Congratulations Gracie Sims Panhandle, Tx (age 7) & Little Bit winning 2nd in the PBRA Poles with a 21.9. WAY TO GO!!
---
BARREL POLE GOAT PONY
The owners won the 2010 saddle on her so her job is done. Ready to go win for the next youth.
15 yr old 13H bay pony mare
22-23 sec poles
Automatic Barrels
Nearly automatic Poles
But does have gate issue, need to lead in
Does have cataract on right eye
Price reflects issues
Really talented & solid on pattern & CHEAP
Video coming soon
Try in Houston area
SOLD
---
Congratulations to Juli Miller, AZ on your purchase of Brandy Skittles Angel! I know you will love her!
---
BABYSITTER TO STEP UP
http://www.youtube.com/watch?v=deWP6IHTr-U
8 yr old AQHA grey gelding
Great for beginners
Sound & gentle
Barrels & Poles
Try in Oklahoma
SOLD
---

Teenage owner got new car, no longer wants to run barrels.
SOUND, SOLID & EASY
1995 APHA 15H sorrel overo mare
Docs Lynx, Docs Geezer on papers
Barrels, Poles, Straights, Stakes, Flags
APHA Reserve World Teampenning Champion
Sound
on the muscle
Goey but easy to run
Currently being run by college girl
Try at Devers Arena

SOLD
---
Congratulations Heather, Mark, Deb Bradshaw, Ark on your purchase of this nice mare!
APHA TOP 10 WORLD
1999 APHA Black white 14.3H mare
Automatic
Only hit 1 barrel in 2 years
7th in APHA World
Suitable for kids
Quiet
Try in Oklahoma
SOLD

---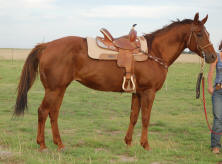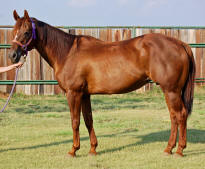 This mare did a GREAT job being a confidence builder for her latest owner and in that time
WON her first buckle Tri State Fair, won NUMEROUS checks and now she is ready to do it again for the next rider!
Click on below for video :
Click on for for video with adult & child riding
http://www.youtube.com/watch?v=6fNRCqW8fV0
CHEAP & AUTOMATIC & KID SAFE
19 yr old 15H sorrel mare
Very safe for any age
Great at the gate
Will move ouchy after her runs
Sold not sound
Sold as is
Try at Devers Arena
SOLD
---

CONGRATULATIONS JAN 2011
Cash Enderli, Houston area on his new grey pony, Molly winning STRA first rodeo.
Won All-Around, won 2nd in Poles, won 1st Goat Ribbons, won 10th in Barrels
*************************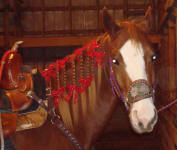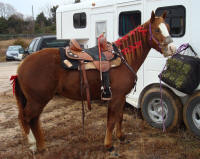 Lisa Aubuchon & Pacific Angel looking good for the holidays! So glad you are enjoying her!
************************

SO MANY WINNERS THIS WEEKEND!!
Lynn & Missy Bennett riding Cat & Huck winning checks at Woodward, Ok series!
***************************
CONGRATULATIONS! Kiley & Missy winning the buckle at the Tri State Fair!!!
**************************
CONGRATULATIONS Gracie Sims & Angel Brandy White Deer, Tx JRCA Reserve All-Around Champion!
---

BARREL POLE GOAT PONY
Good Luck to Cash Enderli, Houston, Tx on purchasing Molly! Watch for them at South Texas Jr Rodeos
14 yr old grey pony mare
23-24 sec poles
Automatic Barrels
But does have gate issue
Does have cataract on right eye
Price reflects issues
Try at Devers Arena
SOLD
condavchrist120110
---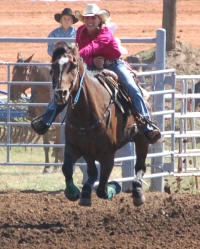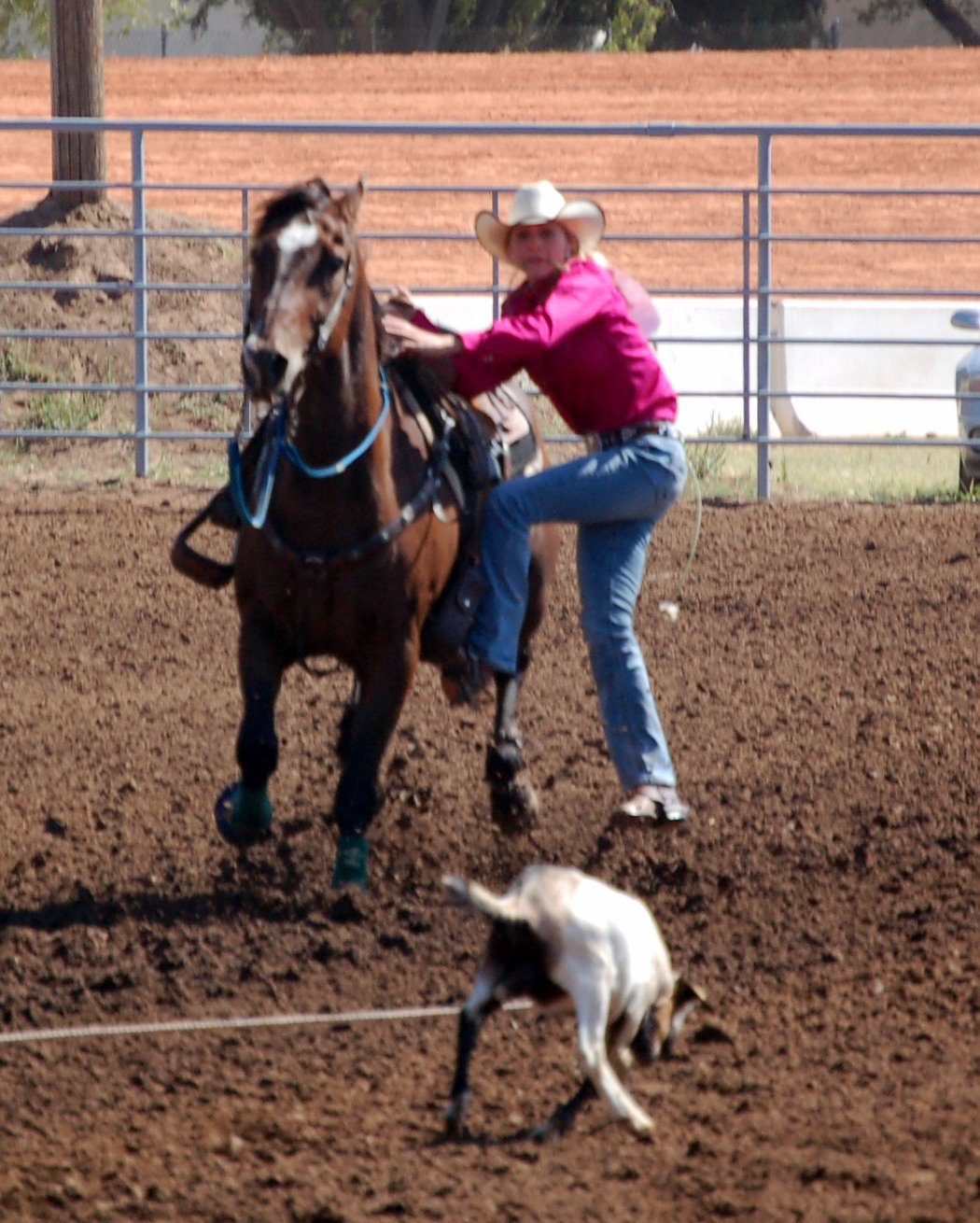 GOATS & TEAMROPES & POLES & BREAKAWAY
21 yr old, 15.1 bay gelding
Super Goat horse (HS & College tough)
Was a Pro caliber Head Horse
21 Pole Horse
Same owner forever
Will set back occasionally if not tied with a aussie tie ring
Good Home a plus!
Try in Oklahoma
SOLD
---
TRIPPING & HEEL PROSPECT DELUXE
7 yr old, 14.3H, 1160 lb grey gelding
Used on the ranch
Good Handle
Wheat pasture doctoring
Ridden by Senior roper
Try at Devers Arena
SOLD
---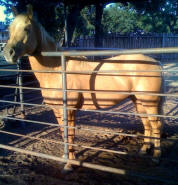 3 YR OLD SIBLING TO WINNERS
2007 Palomino AQHA 15H palomino gelding
Gorgeous and Sound
Full brother to high end barrel & rodeo horses
Started under saddle
Located in Texas
Owner said to sell or trade for a 3H-4H trailer

Call for current price
---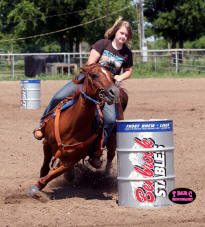 BARRELS POLES FLAGS
16 yr old AQHA 14.1h sorrel mare
Johnson Co Sheriffs Posse Finals Qualifier in 6 events
Good in side gates
Wants to run through center gates
Rides good outside
Try in Dallas area until Labor Day
SOLD

---
BARRELS POLES GOATS HEELS & BREAKAWAY
20 yr old, 14H chestnut gelding
Perfect for a 5 yr old to learn off of
Will walk down the alley
4D Barrels, Poles-28 sec., auto Goats
Try at Devers Arena
SOLD
---
http://www.youtube.com/watch?v=Dv0bHiz9_Ag
Click on for barrels, poles, tracking a calf video
GREAT BEGINNER PONY
15 yr old, 51" tall dun & white welsh pony mare
Super gentle
Excellent for 3 yr olds and up
Babysitter personality
Does barrels, poles, goats and dummy rope
Wonderful in pasture
A little soft in the front 80% sound
Try at Devers Arena
SOLD!
---
JRS SMOKIN REDFORD
12 yr old, AQHA 16H gelding
Big enough to carry anyone and gentle
Good Youth or beginnner any age
Great temperment, easy going
Barrels, Poles
Excellent Trail Horse
Loads, Ties, Picket Line, Chips & Shoes quietly
Goes the speed a beginner needs
Located in KY
SOLD
---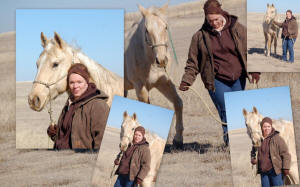 Congratulations Melissa Long Vernon, Tx on your purchase of Barney!
---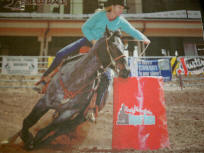 BIG BLUE ROAN
in COLORADO
9 year old 17H blue roan gelding
Barrel trained
Good trail horse,
Loads & hauls easily
experienced rider needed
Bold personality
Located in Colorado
SOLD
---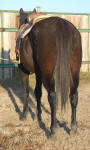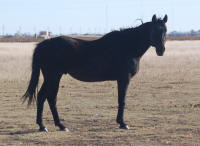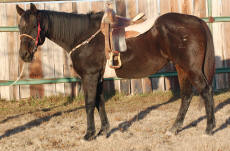 Congratulations to Tayten Pearson, Tx on her purchase of Apollo. She joins her sister, Taylor with Eeorye, another good one from Devers Horses!

LITTLE KIDS BARREL & POLES
21 yr old 15.3H brown gelding
Numerous all-around awards
As automatic on barrels & poles as you can get a horse to be
Gentle giant
Not sound but is cheap
Good home a must
Try at Devers Arena
SOLD

---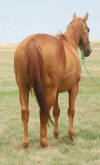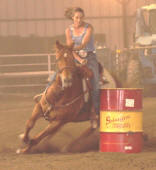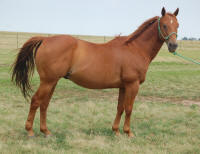 Click on for video of Barrels & Poles
GENTLE BARRELS & POLES
1992 AQHA 15H sorrel gelding
Won Plainview 2D Adult Incentive
Gentle for anyone
GREAT to ranch on
Sound
Easy keeper
Priced cheap and won't last long at this price!
Try in Tulsa, Ok area
---


Congratulations Margie Campbell, TX on your purchase of Clark!
HEADING PROSPECT
7 yr old 15.3H AQHA red roan gelding
Ranch used by 60 yr old rancher
Gentle nature
Used for wheat pasture doctoring
Video coming
Try at Devers Arena

SOLD
---
---


Congratulations Jon Stafford, Memphis, TN on your purchase!
SI 94
Own son of OKIE DOKEY DALE
BARREL PROSPECT

click on for video

ROCKET WRANGLER SI 97
DASH FOR CASH SI 114 LTE $507,000
FIRST DOWN DASH SI 105 LTE $857,756
OKEY DALE DALE SI 108 LTE $250,567
ZEVI TB
OKEYDOKEY BABY SI 101 LTE $230,909

2005 Brown gelding
TINY WATCH SI 101 LTE $106,990
TINY'S GAY SI 106 LTE $444,721
MERRIDOC SI 102 LTE $249,736
SHWN MARY DOC SI 82
SIR WINSALOT SI 87
HURRICANE LANE SI 90
2005 AQHA Brown, 15.2h gelding
Own son of Okey Dokey Dale SI 108
Dam is daughter of Merridoc
Good Temperment
Still in race condition
Sound
Located in Oklahoma
SOLD
---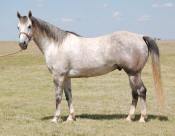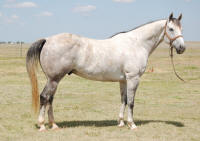 7 YR OLD PROSPECT
7 yr old, 15.3H 1250 lb unreg grey gelding
Trail ridden
Worked goats
Roped the Buford steer
Roped the Heel O Matic
Ridden in Kit Carson National Forest
Hauls, shoes, easy to catch, likes people
Never humped
Rides without a tiedown
Easy trot
Try in Devers Arena or Oklahoma
SOLD
---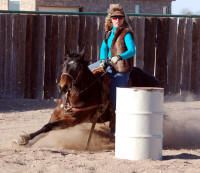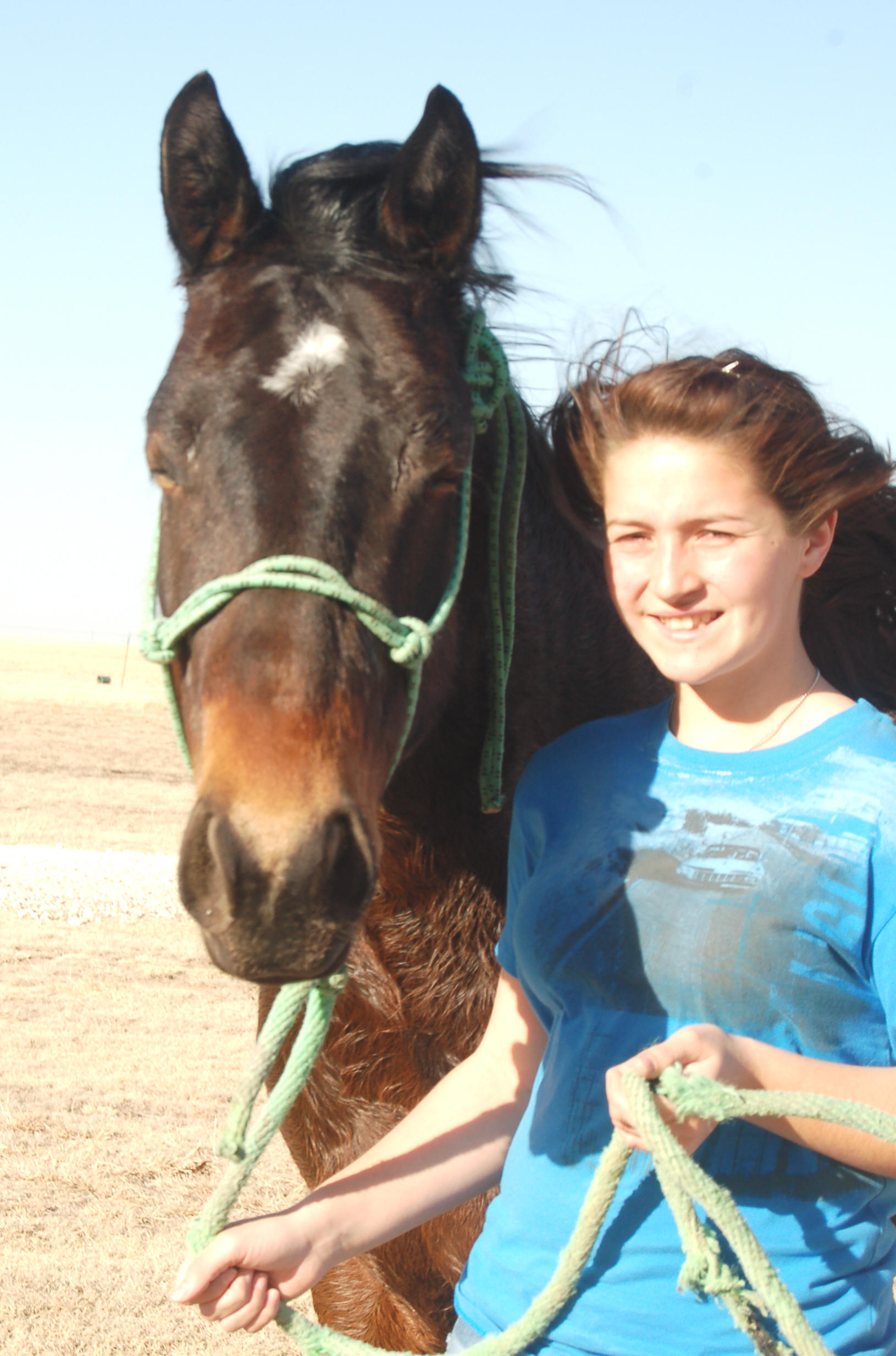 Congratulations & best wishes to the Seibold family, Ok on getting Gypsy!
Go slow, take your time & you'll have a GOOD one for a long, long time!
Click on for video of barrels, poles and breakaway
GREAT ALL-AROUND PROSPECT
5 yr old, 14.3H, 1000 lb grade brown mare
Ready to haul in barrels, poles & breakaway
Good in gate and roping box
Ranch broke and used
Great to gather & sort cattle on
Smooth moving, light mouth
Easy going nature
Well started in all these events, just needs seasoned
Great youth prospect to go on with and make an expensive horse for little initial cost
Try at Devers Arena
SOLD
---
GREY & PRETTY
6 yr old, AQHA 15.1H daughter of A ROYAL JET SI 92
Moon Deck bottomside
Gentle but fast
Has been hauled
Runs a left pattern
Sound
Try at Devers Arena
SOLD

---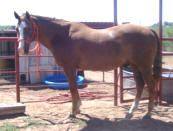 3D-4D BARREL & POLES
1988 AQHA 15.1H sorrel gelding
Barrels 3D-4D
Poles
Trail rides
Top Moon bred
Good step up horse
Try at Devers Arena
SOLD
CONHEATDARB0130095K
---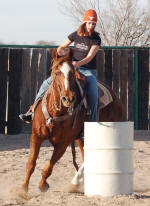 STEP UP BARRELS. POLES & PLAYDAY
17 yr old 15H, 1200 lb sorrel mare
Gentle
Good mouth
Pretty
Ratey style
Great for step up riders
Has raised 5 kids
Some ranchwork roping, too
Currently doing lessons on her
Economical
Try at Devers Arena
SOLD
---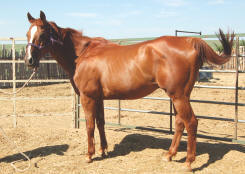 OLDER PRO RODEO GELDING
21 yr old, 15.3H AQHA sorrel gelding
Barrels & Heading
Had a big pro rodeo record in his hey day
Gentle for anyone
Suitable for 5 yr olds & up
Try at Devers Arena
SOLD
---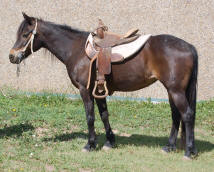 BARREL PONY PROJECT
9 yr old 14H brown pony mare
Has been ridden by a 5 yr old
Would be good for a project horse for older youth
Started on barrels
Sound
Try at Devers Arena
SOLD
---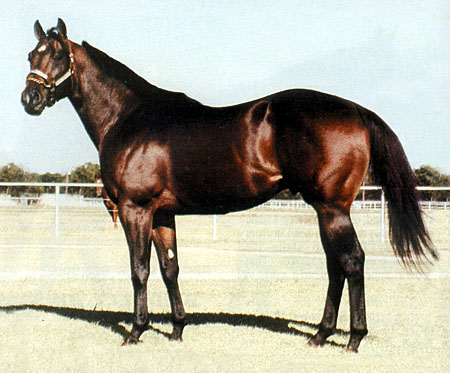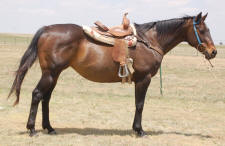 Gone To The Man sire Shes Man Enough

Click on to see her ridden
Click to see slideshow with offspring


NFR BRED BROODMARE GENTLE & KIND
ROCKET WRANGLER SI 97
DASH FOR CASH SI 114 LTE $507,000
GONE TO THE MAN SI 94 LTE $70,000
DREAM CASTLE SI 95 by AZURE TE LTE $119,022
SHES MAN ENOUGH
1992 Brown mare
MOON DECKSI 95
MOON SPOT IT SI 90
Lucky Luna Lady
PACIFIC BAILEY SI 100
Forever Lovely SI 93
1992 Brown 15.2H daughter of GONE TO THE MAN
Sire of KOOL KUE BABY LTE $783,519, World Champion Running Horse '96 & '98
Bred like Chani Payne 2005 Rookie of the Year's mare Little Bit Princess
who was also out of a daughter of Gone To The Man
Molly Powell rode "Princess" to at the 2005 NFR
This mare stood Reserve Grand Champion AHSA at Halter only time shown
Gentle, Gentle
Light mouth
Smooth mover
Always kind, foals are the same way
Buy at DEVERS ARENA

SOLD
---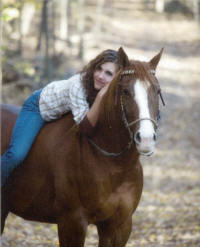 What a wonderful note from Kelsea Sellars & Feature A Vittoro. She bought this colt and completely broke, trained
and is running barrels on him now by herself. She has done an outstanding job and deserves a huge
Congratulations for a job very, very well done!! Thanks for the update Kelsea!
---
Way To Go Melanie Malone & Reaper winning another barrel race in New York!!!
---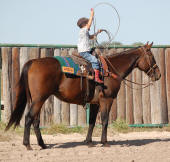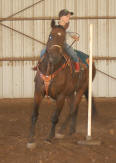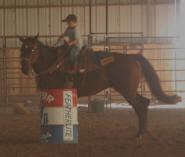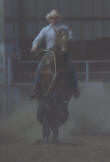 BOMBPROOF BABYSITTER
TEAMROPING, POLE, BARREL BREAKAWAY

17 yr old 15.2h brown gelding
Absolutely the most gentle, kind individual
Will ease around with little ones, special needs riders, novice adults
Can really get to cattle for a real roper
Pins his ears and gets it to a steer
Shown with 5yr old that lopes the barrels, poles, gathers cattle on him
Try at DEVERS ARENA
SOLD
---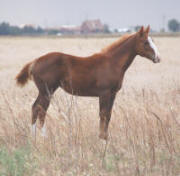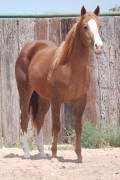 2007 August 2008 photo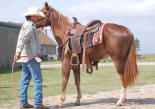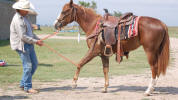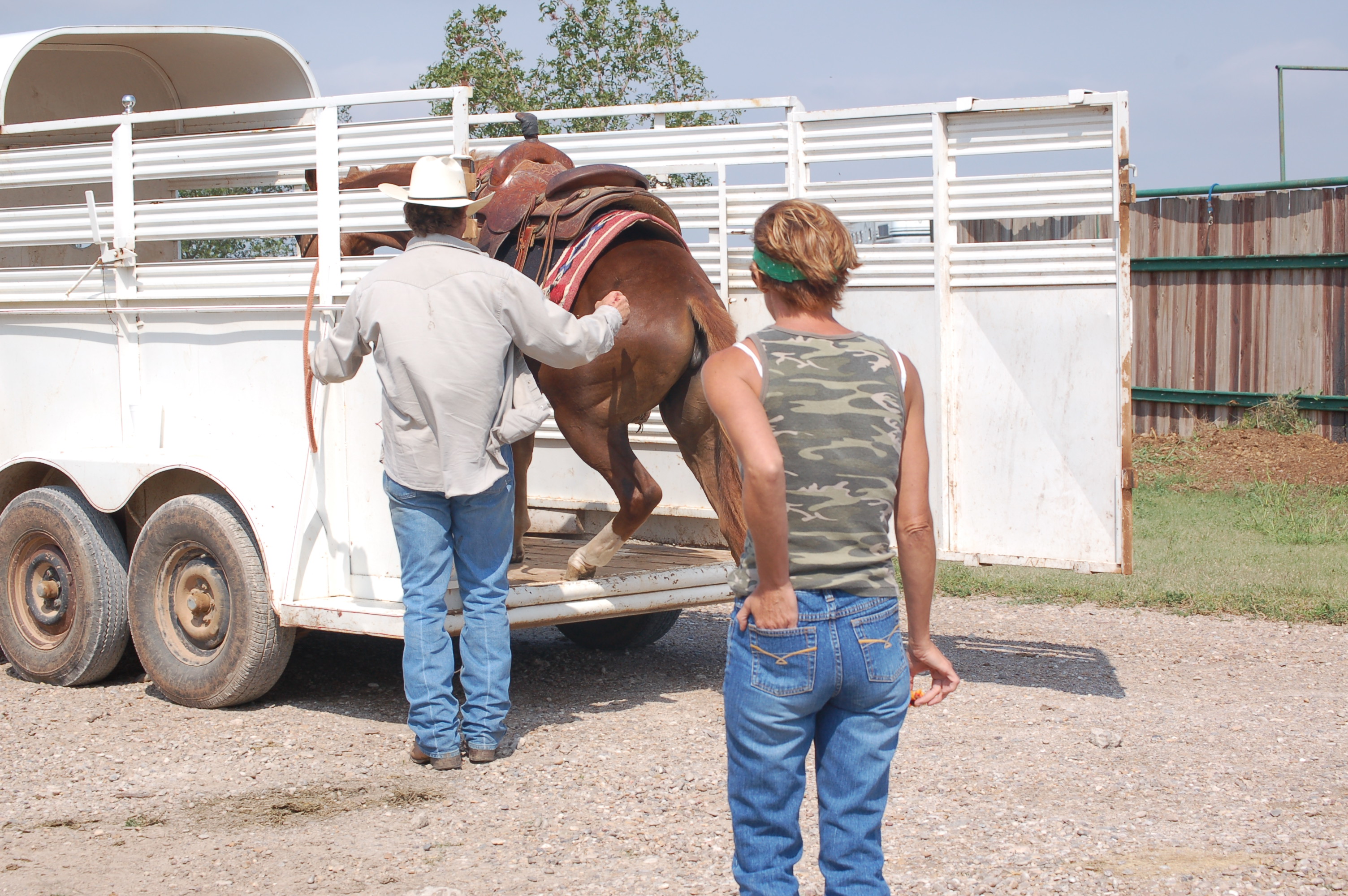 This filly is 16 months old
10/16/08 This filly has now even been packed on in the mountains!!

Update, she has now been sat on bareback. She is still very young but is VERY, VERY broke for her age and
will be a GREAT BARREL PROSPECT
YEARLING PROSPECT
2007 chestnut filly
Grandsire ran SI 103
Topside is Davis Gold Angel SI 103
Pacific Bailey, Angel's Jet Rail
Bottomside is Okie Leo, Speedy Glow
Beautifully balanced filly
Flashy good looks
Located in DEVERS ARENA
SOLD
---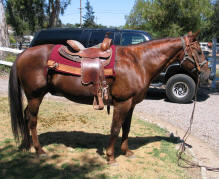 GENTLE, GENTLE, GENTLE ALL-AROUND GELDING
23 yr old 15.1H sorrel gelding
Barrels, Poles, Roping, Trails, Halter, Stakes
Ranch used
Texas 4-H All-Around
Sheriff Search & Rescue certified
Winner at Del Mar Fair
Gentle for anyone
Try in California
---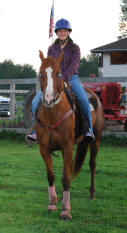 Congratulations Brooke Malone & Reaper Akron, NY winning 2D at her first race and only having her a week!
---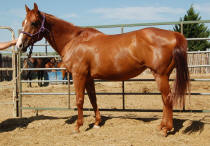 CHEAP 2D YOUTH MARE
13 yr old 15H AQHA mare
Won a big 2D barrel race in 2007
Kid gentle
Priced cheap due to a big knee
Try at Devers Arena
SOLD
---
OWN SON OF STRAWFLY SPECIAL
2005 15.2H APHA gelding
S1 85
Gentle nature
Started under western saddle
Futurity prospect on a budget
Good minded
SOLD
---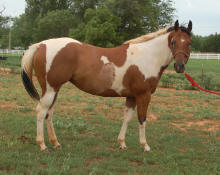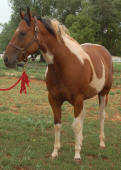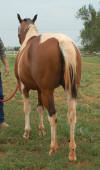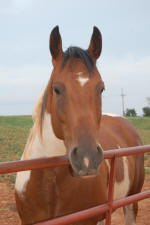 2005 SPECIAL CONTENDER SI 85
15.2H APHA Bay Tobiano 1190 lb mare
Own daughter of SPECIAL CONTENDER
Dam is Treasured Too daughter
1/2 sister 2004 BFA Pro Tour Futurity Champion "Quick Flash" $28,800 LTE
SI 85, Qualified for race futurities
Sound, Good minded, Personable
Loads, Ties, Clips, Bathes
Currently in barrel training
Good minded for even a youth project
Sister placed in Silver Cup
Priced very cheap
Try in Oklahoma
SOLD
---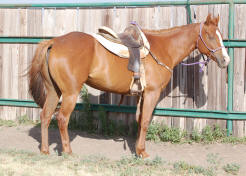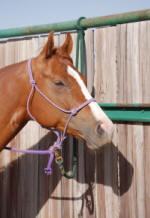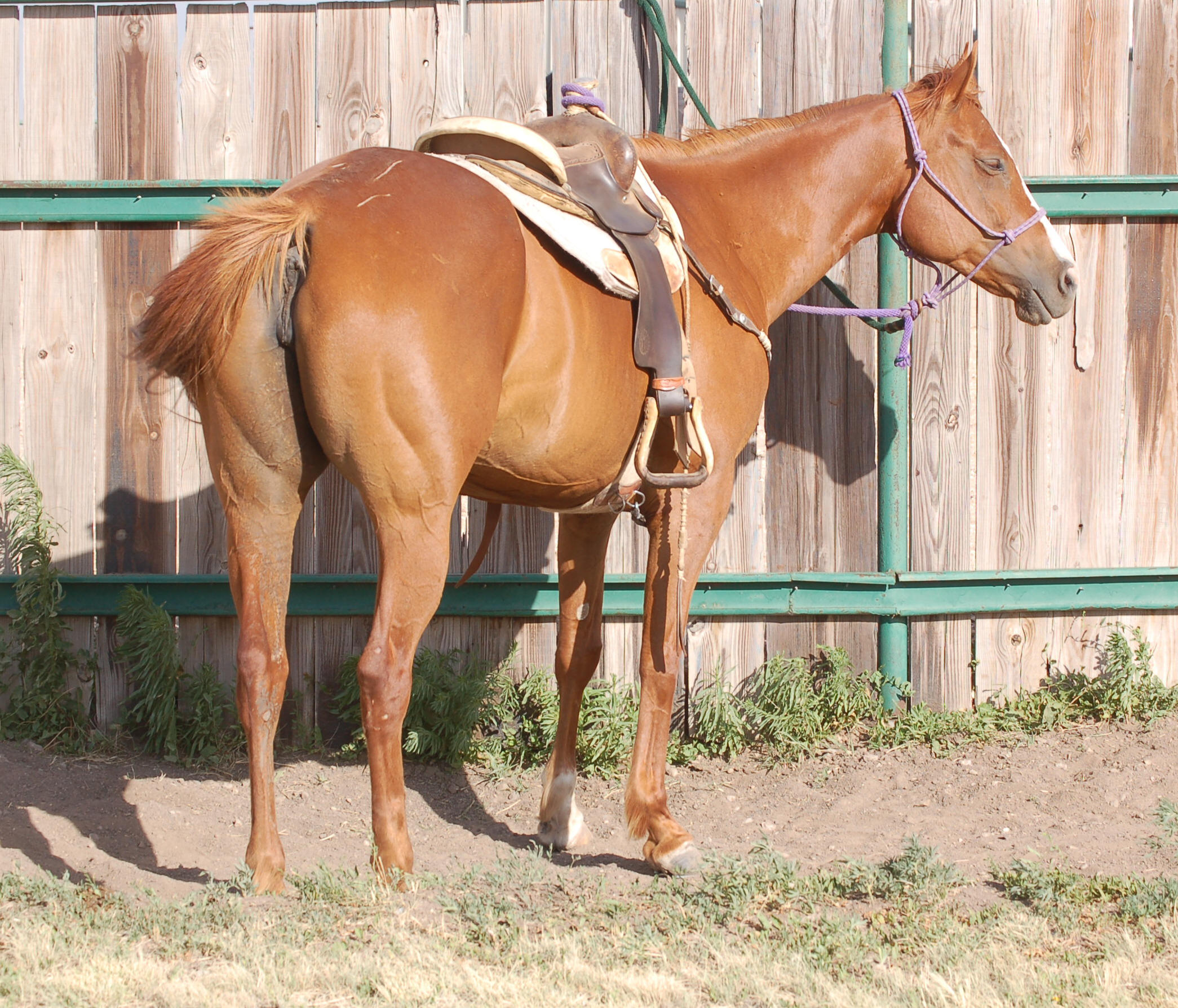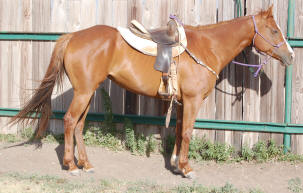 Congratulations Melanie & Brooke Malone, NY on your purchase.
DASHINTHRUTHESNOW OWN DAUGHTER
2000 15.3H AQHA sorrel mare
Started under saddle by Betty Roper NFR barrel racer
Very pretty
Gentle nature
Very good flex, movement and stop
Cheap before I have time put in on her
Try at Devers Arena
SOLD
---
---